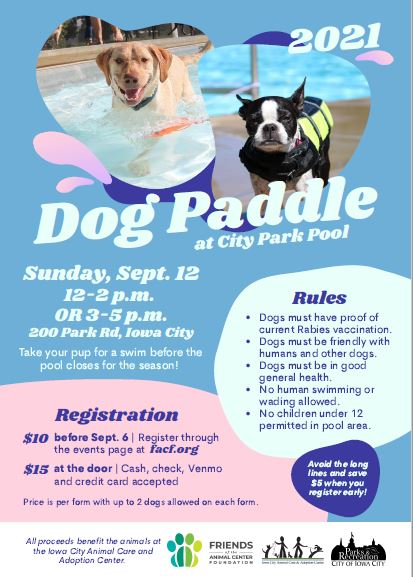 Dog Paddle
Before the City Park Pool is drained for the season attend this once-a-year opportunity for your dog to take a dip in the pool!
Where: City Park Pool, 200 E. Park Rd, Iowa City
When: September 12th, 2021
12-2pm or 3-5pm – registration is good for one time spot. This event is very physical for dogs so we would like to keep them safe and well!
Register early to avoid the long lines and save $5.  We will have a small pool option for the smaller breeds that attend.
Early registration (prior to September 12th) 
General registration $15 (pay at the door) – you can pay for registration at the door with cash, check, Venmo or credit card
Registration price is per form not per dog, and you can include up to 2 dogs on each form.
***NO CHILDREN UNDER THE AGE OF 12***
***NO HUMANS ALLOWED IN WATER***
Please complete a registration form and waiver for your dog(s).  You can email (stephanie@facf.org), fax (319-354-3657) or mail (PO Box 1345, Iowa City, IA 52244) your registration and proof of Rabies vaccination.  We would appreciate all registrations being completed with payment.
All participating dogs MUST have proof of current Rabies vaccination – we must see a copy of the certificate (snap a photo on your phone), tags only work if there is an expiration date on the tag
Dogs must be friendly – with humans and other dogs
Dogs must be in good general health
No children under the age of 12
Only humans with their registered dogs will be permitted in the pool area
No humans in the water, Health Department safety requirement
We want to thank our community partners that make this event possible: