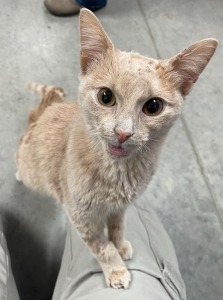 1
Pico was a young female cat who came to the shelter with extensive trauma. Her life was saved thanks to the many people who donated to the FACF medical fund.
2
Pico spent nearly two weeks in the pet hospital where the staff fought hard to save her.
3
Pico required staples for her fractured skull. She also had a fractured jaw, broken teeth, blind in one eye from trauma, a broken tail and many other injuries. These were all treated thanks to donations.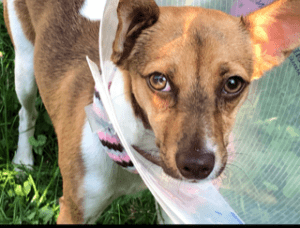 1
Murphy arrived at the Iowa City Animal Center in excruciating pain. He was sadly mauled by fellow housemates when he was introduced to them. He required over 30 staples to close the wound.
2
Donations to the Medical Program paid for Murphy's treatments, surgery, x-rays, pain meds and more.
3
Donations to the Foster Care Program gave Murphy the ability to heal in a quiet home setting.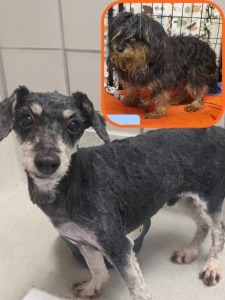 1
Ruffly came from a hoarding case and was one of more than 50 dogs stacked in cages. His hair was so matted he couldn't extended his legs fully, causing severe pain and difficulty walking. This is a common condition for puppy mill dogs used as breeders.
2
Ruffly required extensive dental work due to abscesses and fractured teeth. Thanks to donations to the medical fund his mouth is now pain free.
3
This is what Ruffly looked like we he arrived. Mats can be extremely painful due to the hair constantly pulling at the skin. It's very important that you keep a close eye on long haired animals to ensure they are not forming mats.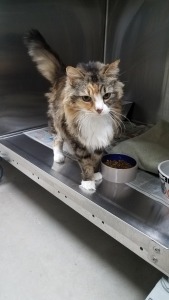 1
Tifa was a 13 year old cat who arrived at the Iowa City Animal Care & Adoption Center with a lump on her neck. It was found to be a tumor and removed. Donations paid for her surgery and treatments.
2
Donations pay for quality animal food. Animals get the same quality food every day to lesson stomach upset.
3
Donations paid for these stainless steal recovery cages. They are safe and easy to clean.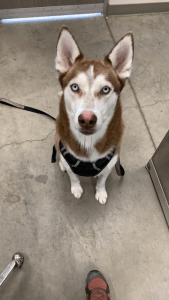 1
Henny arrived at the shelter as a heartworm positive dog. Heartworm is very dangerous and quite expensive to treat. With donations, Henny received treatment and recovered
2
Donations to the Paws to Train program pay for training. Some dogs need a little help becoming highly adoptable by learning manners and basic training. We want every dog to find it's forever home, not a home that works for now.
3
Donations help support the foster and volunteer program. Without the program director it would be very difficult to coordinate everything.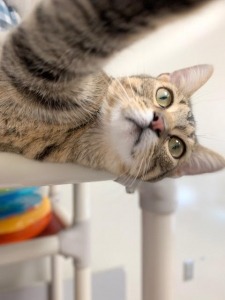 1
Thanks to donations, Pigeon received an experimental fecal transplant when all else failed.
2
Many cats come in to the shelter needing ear polyp removable. They are able to receive the surgery thanks to donations
3
Donations to the Life Enhancement Program provide toys, beds, hides, dog yards, and even more